ETS IoT - Wireless Development Module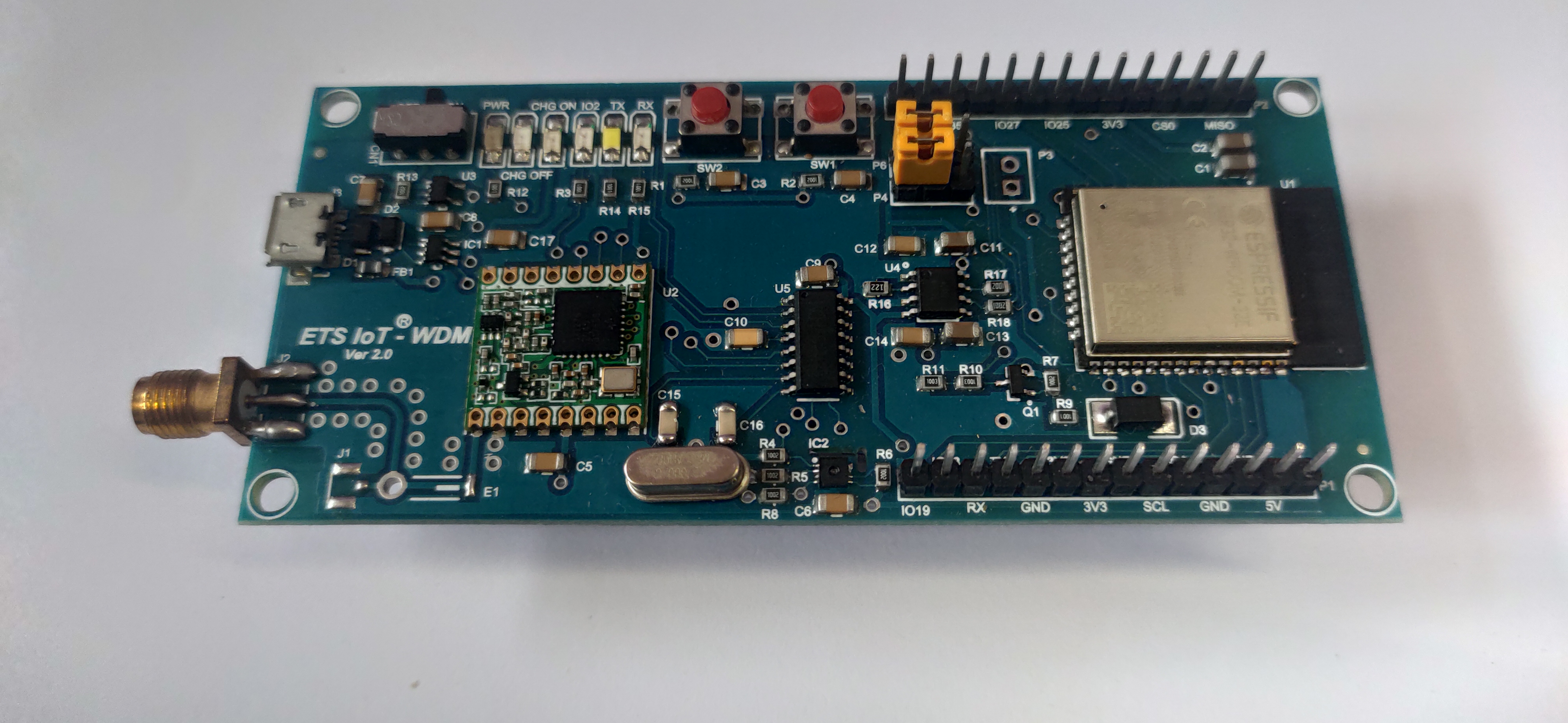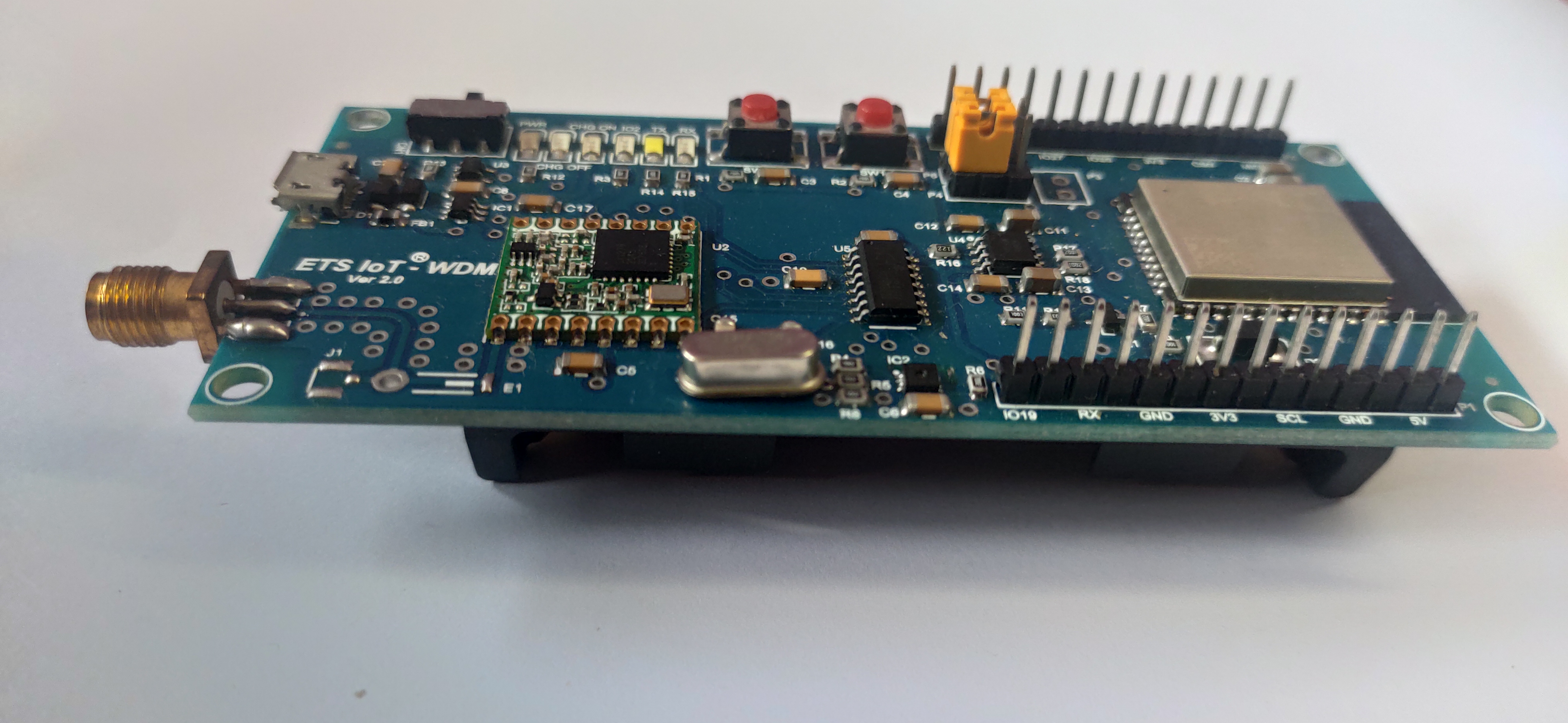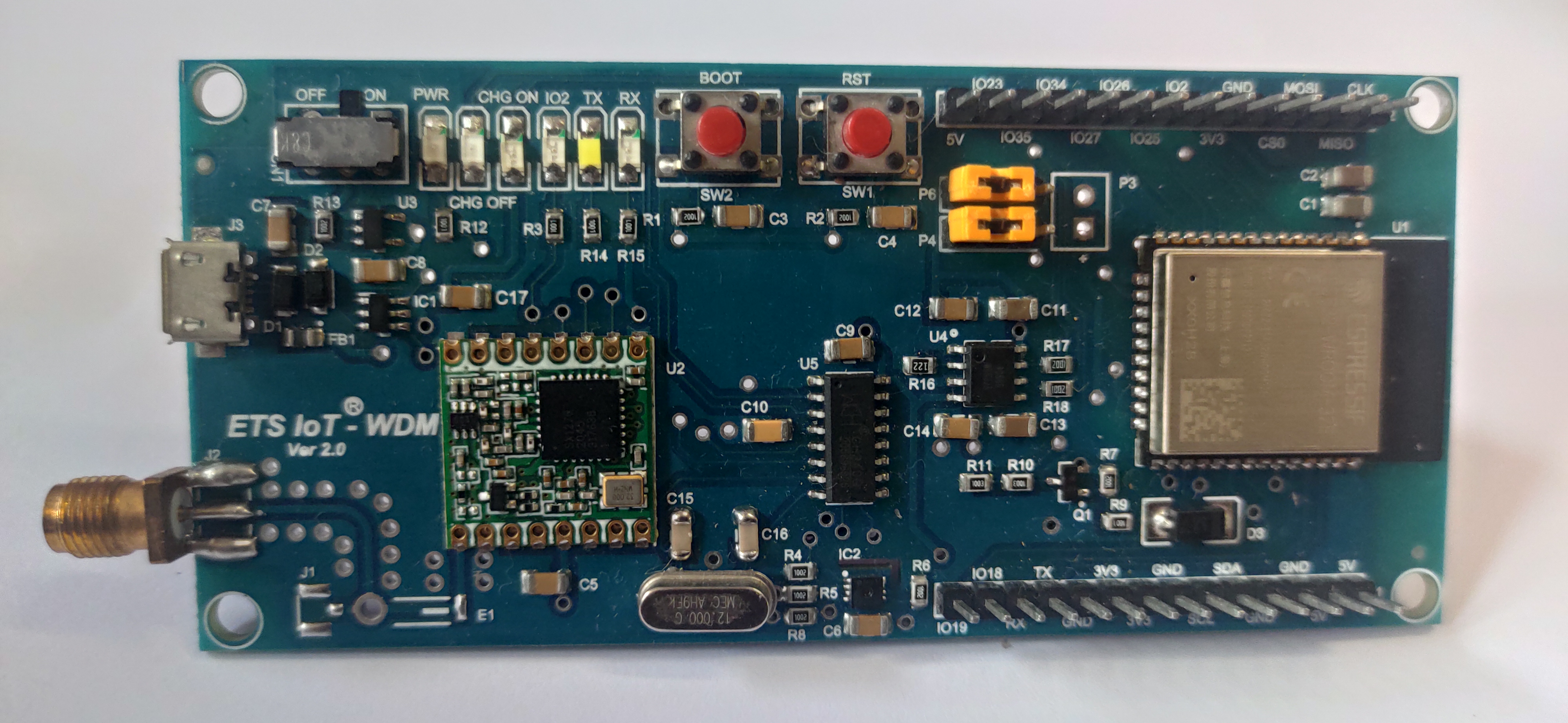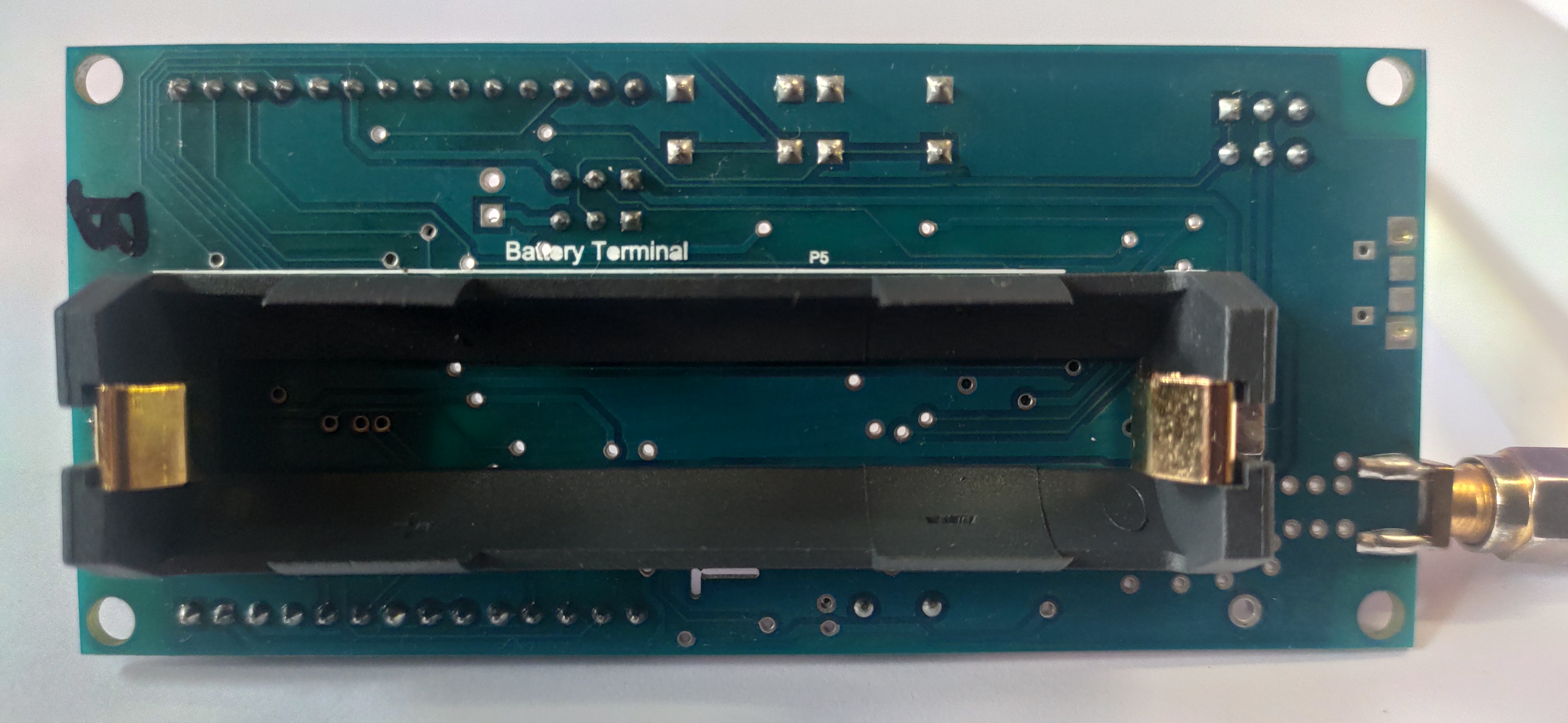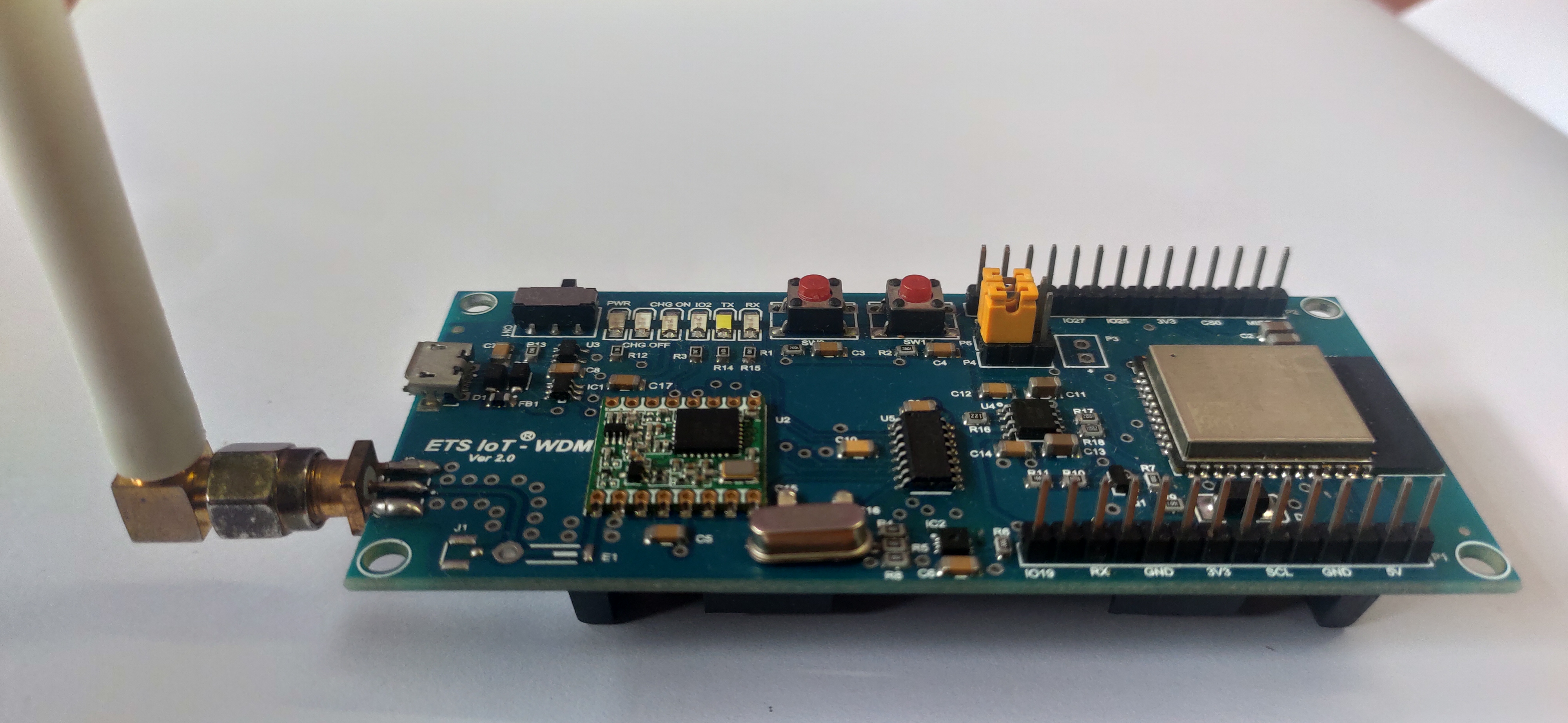 Qty
Unit Price
Ext. Price

1.0

3,420.00

 ₹

3,420.00

 ₹

20.0

3,230.00

 ₹

64,600.00

 ₹

50.0

3,040.00

 ₹

152,000.00

 ₹

100.0

2,850.00

 ₹

285,000.00

 ₹
The ETS IOT WDM board is built around a dual-core ESP32 chip with 4MB of SPI flash onboard, providing both LoRa, LoRaWAN, Wi-Fi and Bluetooth LE via a "3D antenna" on the PCB.
The board's LoRa support operating at 868MHz with an included SMA antenna.
The board can be programmed using the Arduino development environment, and the example code shows you how to both send and receive data via LoRa.

Flipping the board over there is a battery holder for a 18650 Li-Ion cell, and while a 18650 sort of looks like a "standard" AA battery, it's significantly different. So don't make the mistake of substituting in the more common AA battery to try and power the board. They're not quite the same size, but I've seen people attempt this substitution nonetheless.
MCU Specifications:
CPU: Xtensa dual-core 32-bit LX6 microprocessor, up to 240MHz

ROM: 448KB for booting and core functions

SRAM: 520KB for booting and instructions

SRAM: 16 KB in RTC

SPI Flash: 4MB

Ultra Low Power(ULP) Co-processor

Crystal oscillator: 40 MHz

8x Hybrid Digital IO with Special Functions

Special Functions: 1x I2C, 1x SPI, 1x UART

4x Hybrid Analog & Digital IO: 4 No's

2x Hybrid Analog & Digital IN: 2 No's

Analog Resolution: 8,10,12-bit configurable

Pulse Width Modulation (PWM)

Onboard Temperature Sensing (typ., -40°C to 90°C with Accuracy ±0.3 °C)

Onboard Humidity Sensing (typ., 0%RH to 100%RH with Accuracy ± 2%RH)

Onboard LED: 1xRED

Baud rate configurable

802.11 b/g/n Wi-Fi

Bluetooth Classic and Bluetooth Low Energy (BLE) in the 2.4GHz band

General ISM < 1GHz LoRa™ Transceiver 868MHz Surface Mount

Onboard Antenna for Wi-fi & Bluetooth

Open source software
LoRa Specification:
LoRa Chip: RF96

Data Rate: 300kbps      

Power Output: 20dBm  

Sensitivity: -148dBm

Current Transmitting: 120mA

Operating Temperature:-20°C ~ 70°C

RF Family/Standard: General ISM < 1GHz         

Protocol: LoRa™          

Modulation: FSK, GFSK, GMSK, MSK, OOK     

Frequency: 865-867 MHz

Antenna Type   - External Antenna via SMA / I-Pex connector

Supply Voltage: 1.8V ~ 3.7V     

Receiving Current: 12.1mA       

Transmitting Current: 120mA    

Operating Temperature: -20°C ~ 70°C   
Wi-Fi:
802.11b/g/n

Bit rate: 802.11n up to 150 Mbps

A-MPDU and A-MSDU aggregation

0.4 µs guard interval support

Center frequency range of operating channel: 2412 ~ 2484 MHz
Bluetooth Specification:
Bluetooth v4.2 BR/EDR and BLE specification

Class-1, class-2 and class-3 transmitter

Adaptive Frequency Hopping (AFH)
Common DC Characteristics:
Supply Voltage: 5 V

Operating Voltage: 3.0 - 3.6 V

Minimum current delivered by power supply: 500 mA

Battery Voltage: 3.7 V Li-Poly

operating temperature range: – 40 °C ~ 85 °C

Wake up from GPIO interrupt, timer, ADC measurements
Applications:
Home Automation

Smart Building

Industrial Automation

Smart Agriculture