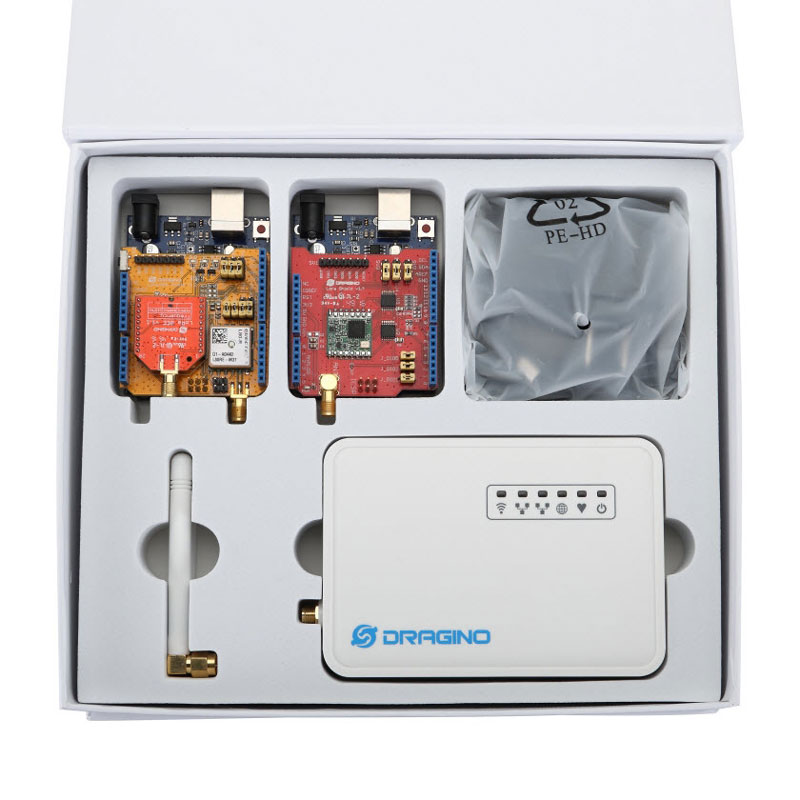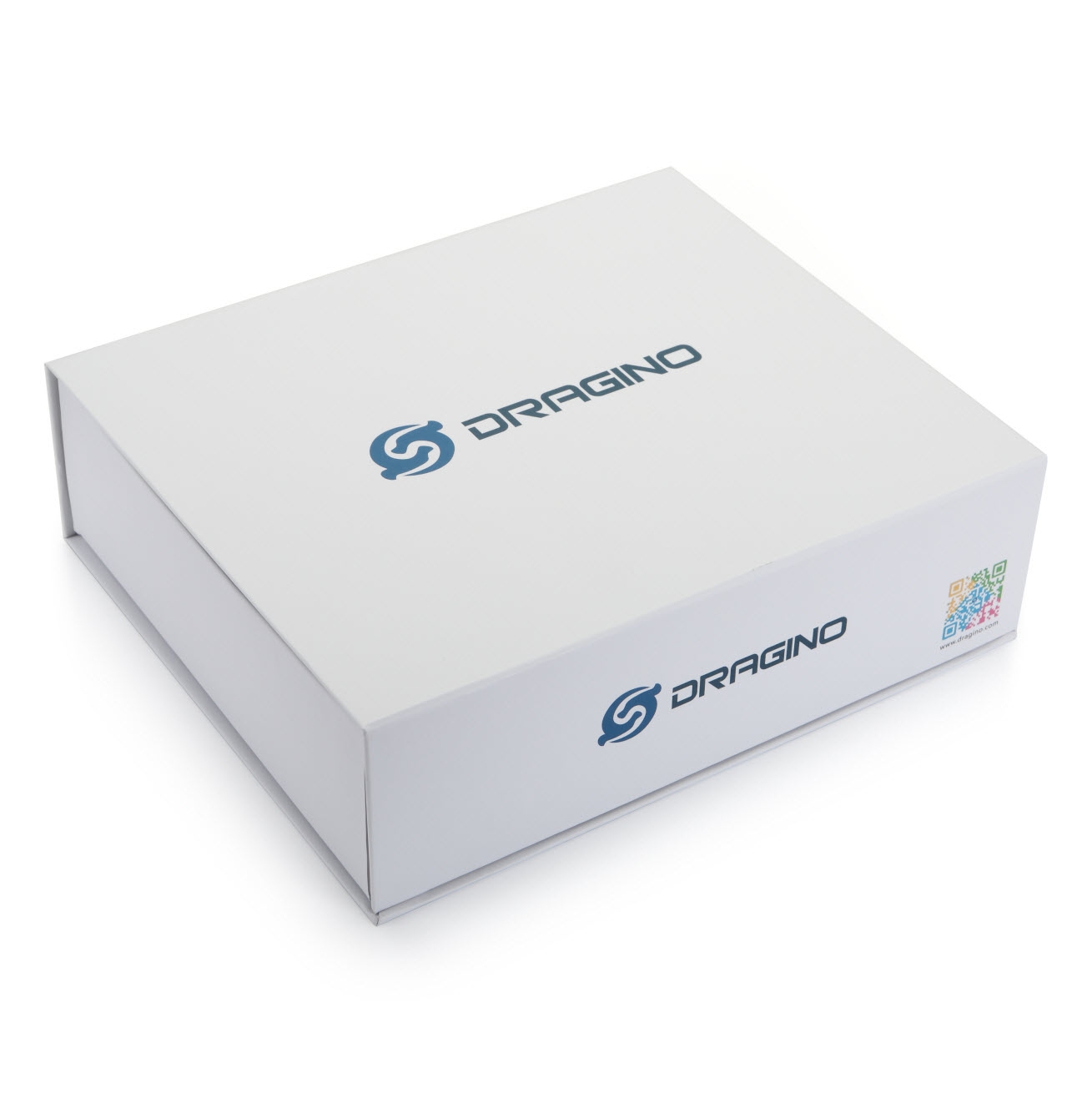 Qty
Unit Price
Ext. Price

1.0

15,480.00

 ₹

15,480.00

 ₹

20.0

13,760.00

 ₹

275,200.00

 ₹

50.0

12,900.00

 ₹

645,000.00

 ₹

100.0

12,040.00

 ₹

1,204,000.00

 ₹
Dragino LoRa IoT Kit  is designed to facilitate beginners and developers to quickly learn LoRa and IoT technology. It help users to turn the idea into a practical application and make the Internet of Things a reality. It is easy to program, create and connect your things everywhere. A number of telecom operators are currently rolling out networks, but because LoRa operates in the open spectrum you can also set up your own network.
 LoRa IoT kit will show how to build LoRa network, and how to use the network to send data from a LoRa sensor node to various IoT servers. When used as a private LoRa network, the LoRa gateway will connect your other LoRa nodes up to 500 meters ~ 5km however expect up to 10km range (when in line of sight) when connecting your LoRa node to a LoRa gateway!
The only difference between v1 and v2 kit is the LG01 version. 
Package Includes:
1 x LG01-N 

Single Channel LoRa Gateway

1 x (LoRa Shield + Arduino UNO)
1 x (LoRa/GPS Shield + Arduino UNO)
1 x flame sensor
1 x Relay
1 x photosensitive sensor
1 x Buzzer
1 x Ultrosonic Sensor
1 x DHT11 Temperature and Humidity Sensor
10 x dupont wire (male to male)
10 x dupont wire (female to female)
10 x dupont wire (female to male)
Single Channel LoRa Gateway:
·    Processor: 400MHz, 24K MIPS
·    Flash: 16MB ; RAM: 64MB
MCU: ATMega328P

10M/100M RJ45 Ports x 2

WiFi : 802.11 b/g/n

LoRa Wireless

Power Input: 12V DC

USB 2.0 host connector x 1

USB 2.0 host internal interface x 1

1 x LoRa Interface

Open Source OpenWrt system

Low power consumption

Firmware upgrade via Web

Software upgradable via network

Flexible protocol to connect to IoT servers

Auto-Provisioning

Built-in web server

Managed by Web GUI, SSH via LAN or WiFi

Internet connection via LAN, WiFi and USB

Failsafe design provides robustly system

1 x SX1276/SX1278 LoRa module

Limited support in LoRaWAN/ Support Private LoRa protocol

Support upto 300 nodes

LoRa band available at 865-867 MHz

Max range in LoRa: 3~10 km\

Up to 14.4Mbps downlink and 5.76Mbps uplink data rates
§  Bullet-proof front end: IIP3 = -12.5 dBm.
§  Excellent blocking immunity.
LoRa Shield:
§  168 dB maximum link budget.
§  +20 dBm - 100 mW constant RF output vs.
§  +14 dBm high efficiency PA.
§  Programmable bit rate up to 300 kbps.
§  High sensitivity: down to -148 dBm.
§  Bullet-proof front end: IIP3 = -12.5 dBm.
§  Excellent blocking immunity.
§  Low RX current of 10.3 mA, 200 nA register retention.
§  Fully integrated synthesizer with a resolution of 61Hz.
§  FSK, GFSK, MSK, GMSK, LoRaTM and OOK modulation.
§  Built-in bit synchronizer for clock recovery.
§  Preamble detection.
§  127 dB Dynamic Range RSSI.
§  Automatic RF Sense and CAD with ultra-fast AFC.
§  Packet engine up to 256 bytes with CRC.
§  External Antenna via I-Pex connector


LoRa GPS Shield:
·        LoRa Shield basic Spec mentioned above along with following GPS Spec
·        Power Acquisition: 25mA, Power Tracking:20mA.
·        Compliant with GPS, SBAS.
·        Programmable bit rate up to 300 kbps.
·        Serial Interfaces UART: Adjustable 4800~115200 bps, Default: 9600bps.
·        Update rate: 1Hz (Default), up to10Hz.
·        Protocols: NMEA 0183, PMTK.
·        Horizontal Position Accuracy: Autonomous <2.5 m CEP.
·        TTFF@-130dBm with EASY™: Cold Start <15s,Warm Start <5s,Hot start <1s;TTFF@-130dBm.
·        without EASY™:Cold Start <35s,Warm Start <30s,Hot Start <1s.
·        Timing Accuracy:1PPS out 10ns,Reacquisition Time <1s.
·        Velocity Accuracy Without aid <0.1m/s, Acceleration Accuracy Without aid 0.1m/s².
·        Sensitivity Acquisition -148dBm,Tracking -165dBm,Reacquisition -160dBm.
·        Dynamic Performance Altitude Max.18000m,Maximum Velocity Max.515m/s, Maximum Acceleration 4G.
·        L1 Band Receiver (1575.42MHz) Channel 22 (Tracking) /66 (Acquisition).
In Dragino LoRa IoT Kit, you can get:
Necessary hardware to start with IoT projects for studying, evaluating.
Learning the Arduino code and some other mcu knowledge.
Learning how to use the commonly used sensors.
Learning the basic knowledge of Linux.
Learning the basic construction of IoT and how it works.
Learning the LoRa wireless technology.
Learning how to build a LoRa network.
Learning how to use your sensor network to communicate with different IoT servers
 Applications:
Automated Meter Reading;
Home and Building Automation;
Wireless Alarm and Security Systems;
Industrial Monitoring and Control;
Long range Irrigation Systems;
GPS tracker,etc.