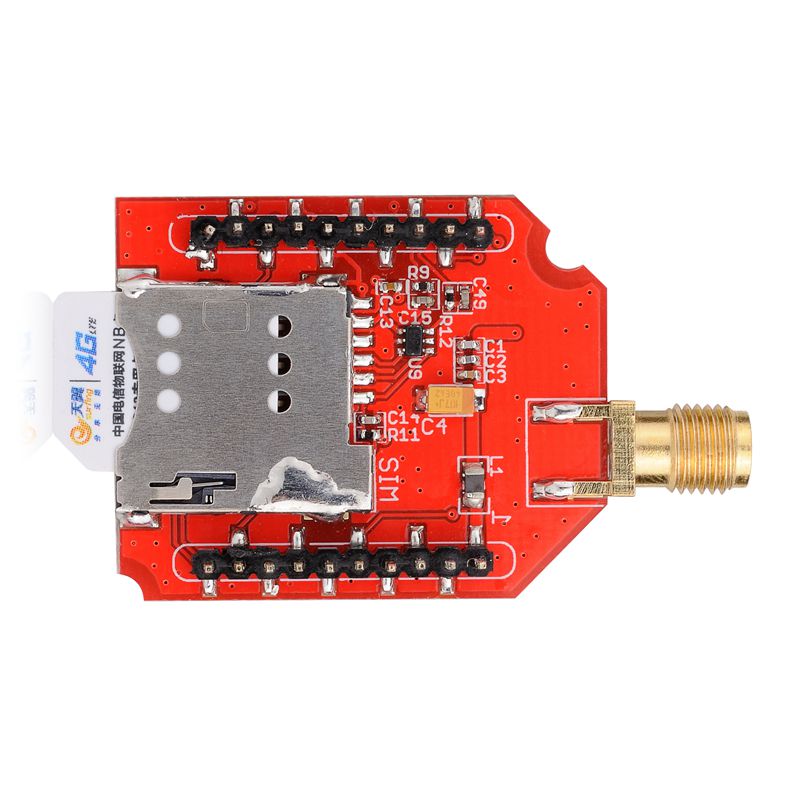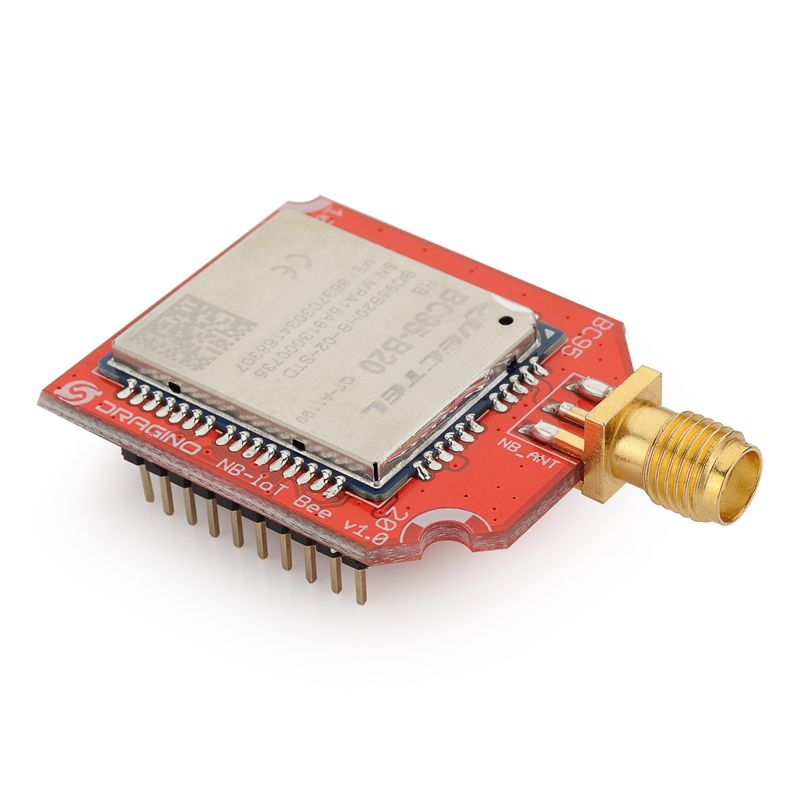 Qty
Unit Price
Ext. Price

1.0

4,410.00

 ₹

4,410.00

 ₹

20.0

3,920.00

 ₹

78,400.00

 ₹

50.0

3,675.00

 ₹

183,750.00

 ₹

100.0

3,430.00

 ₹

343,000.00

 ₹
NarrowBand-Internet of Things (NB-IoT) is a standards-based low power wide area (LPWA) technology developed to enable a wide range of new IoT devices and services. NB-IoT significantly improves the power consumption of user devices, system capacity and spectrum efficiency, especially in deep coverage. Battery life of more than 10 years can be supported for a wide range of use cases.
New physical layer signals and channels are designed to meet the demanding requirement of extended coverage – rural and deep indoors – and ultra-low device complexity. Initial cost of the NB-IoT modules is expected to be comparable to GSM/GPRS. The underlying technology is however much simpler than today's GSM/GPRS and its cost is expected to decrease rapidly as demand increases.
Arduino is an open-source electronics platform based on easy-to-use hardware and software, it is an easy tool for fast prototyping, aimed at students without a background in electronics and programming. As soon as it reached a wider community, the Arduino board started changing to adapt to new needs and challenges, differentiating its offer from simple 8-bit boards to products for IoT applications, wearable, 3D printing, and embedded environments. All Arduino boards are completely open-source, empowering users to build them independently and eventually adapt them to their particular needs. The software, too, is open-source, and it is growing through the contributions of users worldwide.
NB-IoT Bee is the core module for NB-IoT Shield, With NB-IoT Shield and Arduino, user can study/evaluate and do POC for NB-IoT solution rapidly. The NB-IoT Bee is in a small form factor. it can be used to build final product directly as well.
The NB-IoT Bee is loaded with offshore NB-IoT module. include:
Nb-IoT Bee QB05, QB08, QB20, they use Quectel BC95-B5 /B8 and B20 module. The module is designed for only use in NB-IoT network. and difference suffix reference to different NB-IoT Band. (

These modules are discontinue

. recommend to use NB-IoT Bee 95G as replacement)
Nb-IoT Bee 95G, it uses Quectel BC95-G module. This module is a global regions module can work on different operators.
Nb-IoT Bee QG96, it uses Quectel BG96 module. This module supports mutli-bands. Besides NB-IoT, It also support LTE Cat M1 & EGPRS
NB-IoT Bee - XXXX:
XXXX: Frequency Band
QB05: for B5:850Mhz
QB08: for B8:900Mhz
QB20: for B20:800Mhz
95G: with BC95-G (Global Regions)
QG96: Cat M1, NB-IoT & EGPRS
Features:
Support global NB-IoT Bands, can use world widely
Low power consumption
Wide area coverage
AT command to control
Built-in micro SIM slot
Applications: 
Smart metering (electricity, gas and water)
Wireless Alarm and Security Systems
Home and Building Automation
Industrial Monitoring and Control
Long range Irrigation Systems,etc.
Specifications for NB-IoT Bee 95G

Frequency Bands:
B1 @H-FDD: 2100MHz
B3 @H-FDD: 1800MHz
B8 @H-FDD: 900MHz
B5 @H-FDD: 850MHz
B20 @H-FDD: 800MHz
B28 @H-FDD: 700MHz
LTE CatNB1 Connectivity:
250mA @Radio Transmission, 23dBm (B1/B28)
230mA @Radio Transmission, 23dBm (B3/B8/B5/B20)
80mA @Radio Transmission, 12dBm (B1/B3/B8/B5/B20/B28)
65mA @Radio Transmission, 0dBm (B1/B3/B8/B5/B20/B28)
50mA @Radio Reception
Data Transmission:
Single Tone: DL:25.2kbps UL:15.625kbps
Multi Tone:DL: 25.2kbps UL:54kbps
Extended TBS/2 HARQ: DL: 125kbps UL: 150kbps
Protocol Stacks:
IPv4
IPv6
UDP
CoAP
LwM2M
Non-IP
DTLS
TCP
MQTT
Download Method:
Enhanced Features:
DFOTA: Delta Firmware Upgrade Over-The-Air
RAI: Release Assistance Indication
ECID: Enhanced Cell ID
OTDOA: Observed Time Difference of Arrival
Specifications for NB-IoT Bee BG96

Frequency Bands:
Cat M1/Cat NB1:
LTE FDD: B1/B2/B3/B4/B5/B8/B12/B13/B18/
B19/B20/B25①/B26*/B28
LTE TDD: B39 (For Cat M1 Only)
EGPRS:
850/900/1800/1900MHz
Consumption @LTE Cat M1 (Typical):
Power Saving Mode: 10uA
Idle State: 15mA @DRX=1.28s ,  15mA @e-I-DRX=40.96s
Sleep State: 1.5mA @DRX=1.28s ,  1.2mA @e-I-DRX=40.96s
LTE Connected Mode (Avg.): 128mA @0dBm, 140mA @10dBm, 205mA @23dBm
Consumption @LTE Cat NB1 (Typical):
Power Saving Mode: 10uA
Idle State: 15mA @DRX=1.28s ,  15mA @e-I-DRX=40.96s
Sleep State: 1.96mA @DRX=1.28s ,  1.1mA @e-I-DRX=40.96s
LTE Connected Mode (Avg.): 96mA @0dBm, 110mA @10dBm, 223mA @23dBm
Sensitivity:
-107dBm @Cat M1, 1.4MHz Bandwidth, CE Mode A
-113dBm @Cat NB1, CE Level 0
Data Transmission:
Cat M1: Max. 375Kbps (DL), Max. 375Kbps (UL)
Cat NB1:  Max. 32Kbps (DL), Max. 70Kbps (UL)
EDGE: Max. 296Kbps (DL), Max. 236.8Kbps (UL)
GPRS: Max. 107Kbps (DL), Max. 85.6Kbps (UL)
Enhanced Features:
GNSS (Optional): GPS, GLONASS, BeiDou/Compass, Galileo, QZSS
Firmware Upgrade: via USB interface
DFOTA: Delta Firmware Upgrade Over the Air
Processor: ARM A7 Processor, with 3MB Flash and 3MB RAM Available for Users
Positioning Functions