ADW Smart Ultrasonic Watermeter50000698

After sale Technical Support available at
connect@akvodrops.io
Warning!
Additional Mandatory Accessories required (Not Included in this pack): Optical Cable to configure the meter
---
ADW launched by ENTHU combines years experience in metering research and development, adopting state-of-the-art technology and sophisticated production. It has been proven that ADW is reliable and absolute matured achievement in high accuracy measurement.
In addition, the special compact design does completely assure the qualify of water-proof protection. The accuracy is guaranteed even if it is installed under water in a long time. Moreover, the core engineering concept of ADW aims at cutting down the budget on overall operating costs from remote meter readings.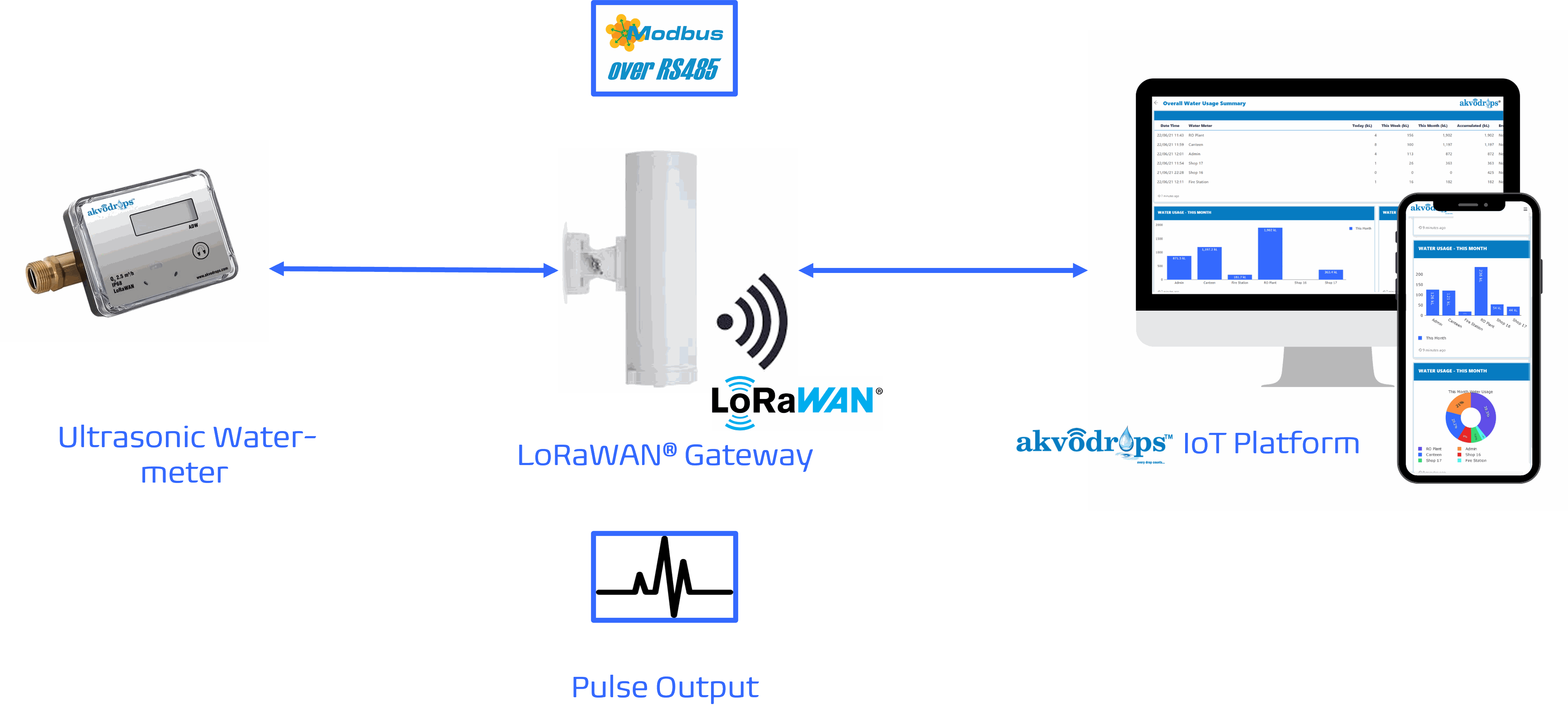 Model
ADW 15
ADW - 20
ADW - 25
ADW - 32
ADW - 40
Pipe Diameter
DN15
DN20
DN25
DN32
DN40
Minimum Flow Rate, q1 (m³/h)
0.006
0.01
0.015
0.025
0.04
Transitional Flow Rate, q2 (m³/h)
0.01
0.016
0.025
0.04
0.064
Nominal Flow Rate, q3 (m³/h)
2.5
4
6.3
10
16
Connection
G3/4'
G1'
G1 +1/4'
G1 +1/2'
G2'
Length (mm)
165
195
225
180
200
Width (mm)
75
75
75
75
75
Height (mm)
100
100
100
100
100
Temperature
Medium Range: 0.1℃…...30/50℃ (T30/T50)
Ambient temperature: 5~55 ℃ 
Storage temperature: -20~60 ℃
Temperature Sensor
A pair of PT1000 platinum resistor
Metrological Class
Class 2, R=160/250/400:1
Maximum Operation Pressure
1.6 Mpa 
Pressure Loss
P<63kPa
Pressure Stage
PN16
Protection Class
IP65/IP68
Battery
3.6VDC lithium battery, 6-10-16 years lifetime option.
Data Storage
24 months history data
ENVIRONMENTAL REQUIREMENT 
Environmental Class: E1, M1, B
Interface & Communication
M-Bu
Optical port 
Pulse output (optional) 
RS-485 (optional)
LPWAN (LoRa, NB-IOT, Sigfox) (optional) 
Installation
Horizontal or Vertical
Display and Indication
Unit: cubic meter (optional) 
LCD: 8-digit 
Standard Compliance
EN14154 
OIML R49
ISO4064
Click Here for Live Dashboard :